Social Media Marketing a New Strategic Approach
Social media has become an intrical part of our lives. It has revolutionized how we communicate and interact with one another and how businesses reach their target audiences.
With the ever-evolving technology and consumer habits, staying ahead of the curve is essential for any successful social media marketing strategy. This article will discuss the latest trends in social media platforms and strategies to help you take your business's online presence to the next level.
Understanding the Basics of Social Media Marketing
Understanding the Basics of Social Media Marketing (SMM) is a branch of digital marketing that involves creating, managing, and optimizing engaging content across social media to reach, engage, and convert users into leads or customers.
It is an effective way to connect with and build relationships with current and potential customers. By leveraging the power of social media, companies can boost brand awareness and increase reach, engagement, and conversions.
Benefits of Social Media Marketing
Social media marketing is a powerful resource for small businesses to reach potential customers and grow their business. It is cost-effective compared to traditional marketing methods, as it doesn't require large budgets or resources to implement.
Additionally, social media marketing can help build brand awareness and loyalty while learning from the competition, fostering relationships, and helping generate leads.
Increase your brand awareness
Social media can help by increasing brand awareness globally. Many people use social media, but remember to protect your personal brand. What I mean by this is there are social media trends, and they are just that, trends.
Your overall content strategy should always direct your customers to your main social media channel. An algorithm update could impact your social media accounts, and as small business owners, you want to be able to reach your customer base.
So it would be best if you drove active users to your website, where you control your customer information. You can direct your users by simply incorporating a direct link on your blog post or adding a website in your bio.
Learn from your competitors
Who is up for a little healthy competition? The social media world is one of the best ways to track your competitor's marketing campaigns. Reviewing what your competitors are doing can activate your creative flow and ultimately have you posting quality content.
You can analyze what is and isn't working for them and adjust your own strategy. An excellent competitive analysis can also allow you to ensure your brand is different and unique and not just a cookie cutter. Analyze the competition; don't copy but learn from each other and grow your way.
Get to know your competitors
Knowing your competitors is a good way for both companies to grow. Lifting others and learning from each other's mistakes.
Growing up with two older sisters was always exciting, but we always supported each other's efforts. What is the old saying "Fail Forward"? Making mistakes helps you learn what not to try the next time.
Surrounding yourself with like-minded people will help motivate and allow you to mentor or be mentored.
Foster relationships with your customers
You can build a lasting relationship with customers through social media marketing. Connecting with their experiences and asking for them information about your products, services, and pain points to help you learn and grow.
We are all social beings, and connecting with others in person or through social channels helps everyone.
Generate leads and increase conversions
A lead-generated idea is a strategy to get a customer to react in a way benefiting your small business. Let me show you a couple of examples of how you can generate leads:
Create a Loyalty program – the customer does something and then gets something in return.
Provide a Giveaway – Customers must enter their email to get the giveaway items.
What are the 5 Elements of a Social Media Marketing Strategy
An effective social media marketing strategy can provide lead generation, increase brand awareness, drive traffic to your website, and generate revenue for your business accounts.
The following is an overview of the five elements of a successful social media marketing strategy that will take your social media presence to the next level:
Identify Target Audience And Goals
Who is your ideal customer? Think about your ideal customer and their shopping patterns. Knowing your customer and understanding their needs, pain points, values, and interests will help you to create your social media content.
Establishing your ideal customer is the first step in your social media strategy. The next step is determining your goals and how you can effectively market this client with your social media posts.
Establish your most important metrics and KPIs
Whatever your goals, you should focus on social media analytics and social media marketing goals. Reviewing your data once you create content can help you identify what works and doesn't.
You will need good social media tools like Google Analytics, Hootsuite, or Sprout Social. These powerful tools offer insights into content performance and valuable data about customer behaviors.
This information allows businesses to adjust their social media strategy to ensure successful campaigns and maximize ROI.
Selecting a social media platform for your business
A business owner needs to take several steps when selecting the right social media platform for their business. After identifying your ideal customer, you need to analyze which social media platforms have the potential to reach your target audience. It's important to research and analyze each platform based on its social media users, audience demographics, and features to ensure a good fit for your business.
Create Engaging Content
You need to create engaging content around topics of interest to your target market is key to social media marketing. It's crucial to post content that resonates with users and encourages them to share your quality content with their networks, resulting in increased engagement and brand awareness.
Additionally, your business will gain credibility and trust in the online community by creating helpful, insightful content.
Integrate With Your Digital Strategy
Integrating your social media strategy with your digital strategy is essential for the success of both marketing efforts. Your social media and digital strategy should work together in a cohesive way to maximize reach, engagement, and conversions. Here are some tips on how to do just that:
Leverage data from both strategies: Collect data from both methods to create effective campaigns.
Monitor progress: Track the performance of both strategies and adjust accordingly to ensure that goals are met.
Focus on the customer journey: Ensure that your content, messaging, and tone aligns with the customers' journey from awareness to conversion.
Social Media Marketing can help promote any business regardless of size. With the right strategy and tools in place, it is possible to stay ahead of the curve and remain competitive.
Businesses can maximize their social media ROI and drive growth by leveraging data, engaging content, and tracking progress.
By following these five elements of a successful social media strategy, you can get the most out of your social media marketing efforts. With the right strategy in place, you'll be able to stay ahead of the curve and drive revenue for your business.
Different Types of Social Media Networks
Social media networks help you connect with other people. Each network allows you to do different things like share pictures or videos (Instagram and YouTube), shop for items (Etsy), or write about your experiences (WordPress).
Promote your business on social media and reach more people. By understanding the different networks available, you can ensure your content is tailored for each platform and create a successful marketing strategy.
There are seven distinct types of social media networks companies can use to reach and engage with their target audiences:
Social Networks:
Social networks like Facebook, Twitter, and LinkedIn are great for connecting with people, sharing content, and engaging with your target audience. Tailoring your content for each platform to ensure it resonates with the right people is important.
Media Sharing Networks:
Media-sharing networks such as Instagram, YouTube, Snapchat, and TikTok allow businesses to share photos, videos, and stories to engage with their audience. Ensure your content is optimized for each platform to reach the most people possible.
Discussion Forums:
Discussion forums such as Reddit and Quora allow users to ask questions and get answers. Businesses can use these platforms to answer questions related to their products or services and establish themselves as experts in their industry.
Pinning Networks:
Pinning networks such as Pinterest enable businesses to share visually appealing content and images related to their brand. This is an excellent way to showcase products, recipes, DIY projects, and more.
Review Networks:
Review networks like Yelp Trip Advisor allow people to share their experiences with businesses. It's essential to have a presence on these networks to respond to customer reviews and address any issues or concerns they may have.
Blogging Networks:
Blogging networks like WordPress enable businesses to create informative content and share it with their audience. A blog is a great way to drive traffic, build relationships, and establish expertise in your industry.
Shopping Networks:
Shopping networks like Etsy enable businesses to create an online store and sell products directly to their customers. Networks like Etsy are great ways to sell your products and utilize their customer network without having to build your own, providing a quicker way to increase sales, and boost revenue.
By leveraging the different types of social media, businesses can increase awareness, build relationships, and drive sales. It's important to understand each platform and tailor your content accordingly.
What are the 8 types of social media?
An effective social media marketing strategy can help you reach more potential customers and generate revenue.
Businesses can use eight distinct types of social media to engage with their target audience: content marketing, paid social ads, influencer marketing, community building, sponsorship marketing, thought leadership, forums and groups, and review and reputation management.
By leveraging the different types of social media available today to create engaging content tailored to each platform, businesses can increase their brand awareness and drive sales. With the right strategy and execution, your business can stay ahead of the curve and benefit from all that social media offers.
Content Marketing
Content marketing is a way for businesses to spread their message and reach more customers. Content can be videos, pictures, stories, or articles that help explain the company's products and services. Businesses use content marketing to grow revenue by getting people interested in their products and services, so they buy them.
Paid Social Ads
Paid social ads are a way for businesses to advertise on social media. Small business owners can pay for these ads, which helps them get more people to learn about their business and products. Social ads can help businesses get more customers and make more money.
Influencer Marketing
Influencer marketing is a way for businesses to use influencers, or people with popular social media accounts, to promote their products. By leveraging the influencer's large audience and reach, businesses can get more people interested in their offerings and drive sales.
Community building
Community building on social media is about creating an active community of followers engaged with the brand. This is done by creating content that resonates with the target audience, responding to comments and questions, and interacting with followers through polls, contests, and other activities.
Sponsorship Marketing
Sponsorship marketing is when a business pays an influencer or social media user to promote their products or services on their page. This can be a great way for businesses to reach new customers and increase awareness around their brand.
Thought Leadership
Thought leadership is when a business takes the lead in providing valuable information and insights to its target audience. This can be done through blog posts, webinars, podcasts, or other content that educates and engages the audience.
Forums and Groups
Forums and groups are networks explicitly designed to exchange information and ideas. These networks allow businesses to connect with their target audience and foster conversations around their brand.
Review and Reputation
Reviews and reputation management are important for any business that wants to succeed in social media marketing.
By monitoring customer reviews, responding to feedback, and promptly addressing negative comments, businesses can maintain a good online reputation and attract more customers.
By utilizing these eight types of social media, any business can develop effective marketing strategies to stay ahead of the curve in today's competitive market.
From content marketing to thought leadership, leveraging the right social media platform can help your business reach new customers and drive sales. Every business should evaluate what works best for them.
Social Media Platforms
Most Social media platforms are digital environments that provide users with a range of opportunities for communication and collaboration. The most popular social channels include Facebook, Instagram, Twitter, YouTube, LinkedIn, and Pinterest.
Twitter
How can Twitter be used to promote effective Twitter marketing? Businesses can use Twitter to create engaging content that resonates with their target audience and fosters customer engagement.
Twitter users can build brand awareness, increase website traffic, and generate leads. Additionally, businesses can leverage Twitter Ads to expand their reach and target customers more precisely.
Instagram
Although Instagram hit the marketing after Facebook and LinkedIn, Instagram has quickly grown to over 1 billion users monthly. Instagram users follow brands or influencers who support them personally.
LinkedIn
In the eyes of many LinkedIn users, they are a powerful community promoting leadership, learning, and core values. It's also incredibly effective for expressing your business culture and creating an identity alongside business branding and networking tools. There are many benefits of LinkedIn company pages. One benefit is that it helps drive traffic to your social media websites.
YouTube
With over 2 billion active users each month, YouTube is one of the largest social media platforms available and provides businesses with the opportunity to reach an even larger audience than they would on other social media sites.
YouTube can be used in various ways to promote effective marketing for businesses, including creating informative videos and tutorials, running ads, and engaging in influencer marketing. Additionally, businesses can use YouTube analytics to measure the success of their campaigns by tracking viewership and engagement metrics such as likes and comments.
Facebook
The largest social media platform is Facebook, with over 3 Billion users. It combines marketers with a wide variety of highly detailed information and a targeted audience. Facebook Ads can help users through this step. Facebook users share content, keep in touch with friends and family, and promote products or services.
With so many different social media platforms available, you are sure to find one that meets your business needs.
Pinterest
Pinterest is a powerful visual social media platform that business owners can leverage to promote their products and services. With over 250 million active users each month, Pinterest provides businesses with an incredibly effective way to reach their target audience and build brand awareness.
Pinterest users can create boards featuring their products or services and gain followers through creative visuals. Additionally, businesses can use Pinterest Ads to reach more targeted audiences and drive sales.
By understanding the different social media channels available and how to use them effectively, businesses can create successful social media marketing strategies and stay ahead of the curve. With the right approach, companies can reach new customers, build brand awareness, generate leads, and increase sales.
For more information on social media marketing and the latest trends, stay up-to-date with industry news and best practices. Businesses of all sizes need to recognize the importance of staying ahead of the curve regarding social media marketing.
Businesses can create successful campaigns that reach new customers and drive sales by leveraging different platforms and strategies.
Social Media Management Tools
Social media management tools are essential for any small business looking to stay competitive in today's digital landscape. By utilizing these platforms, companies can create effective social media marketing strategies that will help them reach new customers and increase sales.
Social media management tools provide businesses with an easy way to manage multiple accounts at once, target users more precisely with ads, measure success through analytics data, and engage with their audience on a deeper level.
Small businesses should take advantage of these powerful resources to ensure they stay ahead of the curve in social media marketing.
A few popular and effective tools available to businesses include Hootsuite, Sprout Social, Buffer, and Tailwind.
Gorgias is also a very effective tool to help you manage all your customer services across all social media.
What are the four types of social media marketing?
The four different types of social media marketing are:
Organic social media is content posted on social networks that can be shared, liked, and commented on by viewers.
Paid social media involves running advertisements or promoting posts to increase visibility amongst a target audience.
Earned social media consists of users who help spread a brand's message without being paid.
Owned social media is content created and published by the company that owns the accounts.
Finally, by understanding these four types of social media marketing, businesses can create effective strategies for reaching the right audience and increasing sales.
Social Media Marketing Tips
Social media marketing can be daunting for those needing help knowing where to start. But with the right tips and strategies, businesses of any size can create successful campaigns that drive sales and reach their target audience. Here are some social media marketing tips that will help you get started:
Understand your audience: Knowing who the buyer persona is will determine the content you should create and share on social media.
Optimize your profiles: Ensuring your social media accounts are optimized for visibility is key to staying ahead of the curve and reaching more customers.
Create visuals: Visuals such as photos, videos, and graphics are essential for engaging with your audience and driving more traffic to your profiles.
Leverage social influencers: Influencer marketing is a great way to reach new customers and increase brand awareness.
Analyze the performance of campaigns: It's important to track the success of your campaigns by analyzing data from analytics tools and adjusting your strategies accordingly.
Try paid social media
Advertising on social media offers many advantages. If you use your card correctly, you can have content and offerings on the internet at low prices. Social media platforms provide extremely targeted capabilities, which allows your company to focus its budget on exactly who is likely to find you.
Stay consistent
Social media marketing can help businesses communicate their brand image on various social media platforms. While every platform provides its own unique environment and voice, the business identity must stay consistent.
Business owners need to stay up to date with social media trends and tools so they can make a plan to reach their customers. Staying consistent helps them get more sales and stay ahead of their competition. They need to keep using social media consistently so that people will see what they have to offer.
Use content creation tools
Content creation tools are essential for creating effective social media marketing campaigns. There are a variety of tools available to help businesses create engaging content that will resonate with their audience.
Common content creation tools used by social media marketers include graphic design programs, video editing software, analytics platforms, and AI-based technologies.
Curate your feeds
Curate your feeds is a term used in social media marketing to describe the process of selecting, organizing, and displaying content to create a well-rounded user experience for visitors.
This practice is important for business owners as it helps them control their brand's image and reputation by ensuring that only relevant and high-quality content is being presented to their followers.
Additionally, curating feeds can also help businesses increase engagement and grow their audience base through targeted content that resonates with current followers as well as new users.
Measure success with analytics
Google Analytics allows marketers to measure the effectiveness of their social media campaigns in terms of website visits and conversions. It also provides detailed information on which platforms are driving the most traffic, what content is resonating with audiences, and how users are interacting with their brand's pages.
With these insights, businesses can fine-tune their social media marketing strategies for maximum engagement.
Repurpose, repost, recycle
By repurposing content, they can maximize their time spent creating new material, reach a larger audience and make sure the message is being heard. Additionally, it helps them stay ahead of the competition by keeping their content fresh and new.
Finally, it is important to keep in mind that trends and algorithms can change quickly in the social media landscape, so it is essential to stay up-to-date on changes and adjust accordingly.
By following these tips and staying up-to-date with the latest trends, businesses can create successful social media marketing campaigns that will reach more customers and increase revenue through paid or organic content.
How do beginners start social media marketing?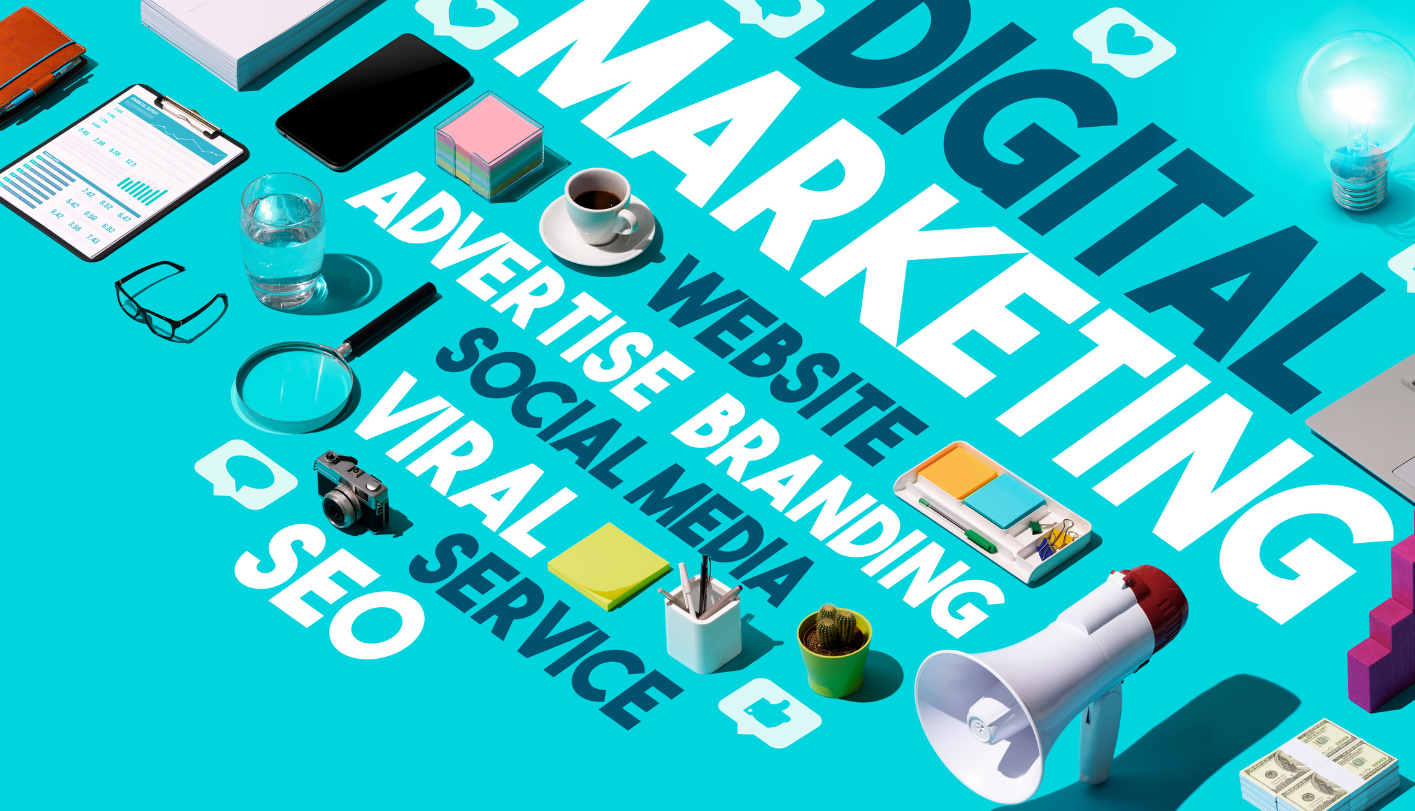 Social media marketing can seem overwhelming for beginners, but it can be done with the right tools and strategies. You must understand your ideal customer to get started on the right foot and create a plan that speaks directly to them.
First, you should learn as much as possible about the platforms you plan to use and the type of content that will interest your audience.
Once you have a basic understanding of social media, you can create profiles on popular sites. Quality visuals such as photos or videos will help grab people's attention and make your posts stand out.
Next, create a content calendar that outlines when and what types of posts you will be sharing. Keeping a content calendar will help you stay organized and ensure your content is consistent and relevant.
Finally, it's crucial to track the performance of your social media campaigns so you can adjust your strategies as needed.
With dedication and an organized approach, beginners can create successful social media marketing strategies. By understanding the fundamentals of social media marketing, small businesses can stay ahead of the curve and use it to their advantage.
Creating Your Social Media Marketing Plan
The hardest part of many new tasks is starting. You can overanalyze for days or months but until you start will you have solid data about what is work or what needs to be adjusted. As we talked about earlier:
Identify your ideal customer
Set goals
Select your platform
Create & publish your content geared toward your ideal customer
Incorporate into you digital strategy and learn and grow
Let's get this information out the planning mode and implemented today. Your social media strategy will serve as your guide to achieving your goals. Helping you measure your success and ensure that you invest your resources wisely.
How big is the social media market?
Social media has changed dramatically since COVID. Think back to before internet, it took a lot of work to quickly reach people in other places. Now with, social media and the internet make it easier to let people know about your business or product in many different countries. It is also faster to share information and get feedback from customers.
Global Population
The data finds from Datareportal show the Global population to be approaching 8 billion and 5 billion internet users among them. You can view their full report here but I have summarized a few slides below.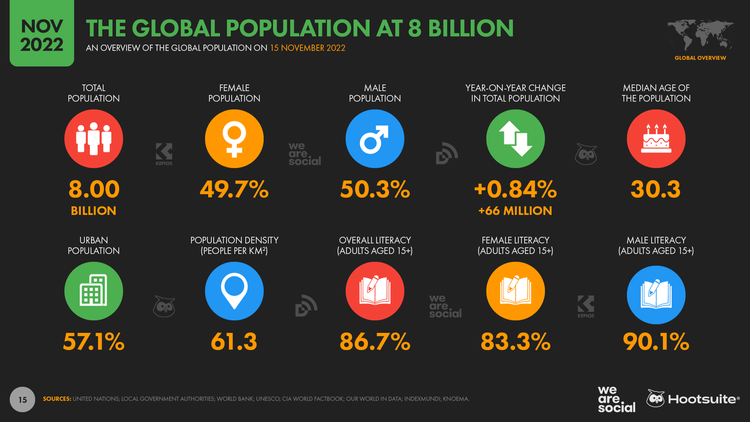 The global market for social media is estimated to be worth around $59 billion. This number has been growing yearly as more businesses use social media as a marketing strategy.
The average amount of time spent using the internet is 6+ hours a day. That is a large part of your free time when you subtract the amount of time for sleeping and working. This large volume is why many businesses are turning to social media marketing channels to increase revenue.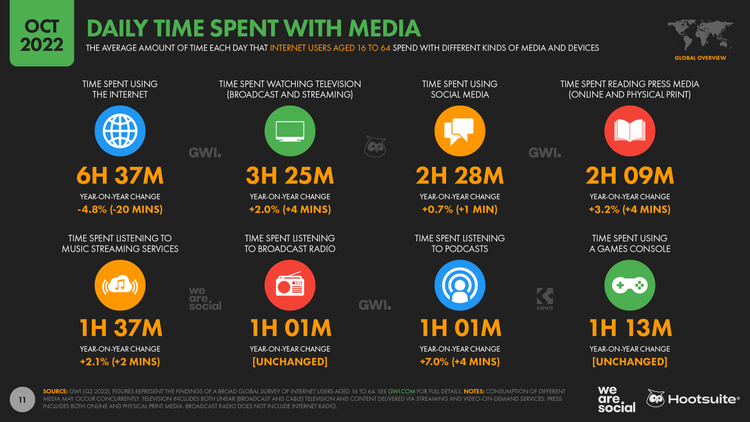 What is the most popular social media platform?
As you can see from the results from Datareportal, Facebook has over 2.9 million users. So is Facebook dying? Not at all. Facebook is still preferred by most businesses to market their products and services.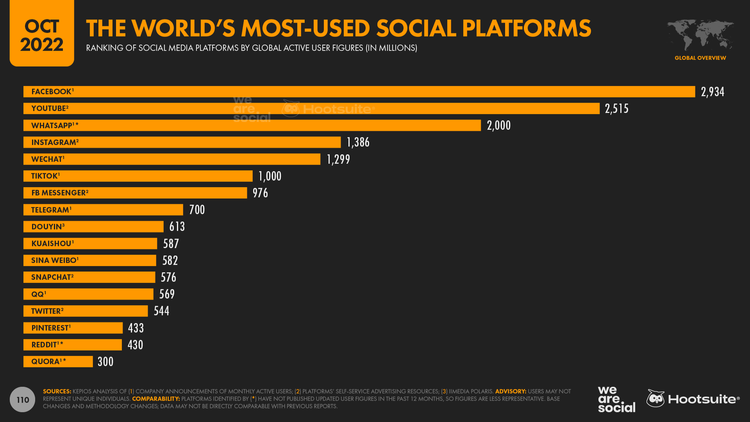 Main Reason people use the Internet
Almost all of these reasons are associated with consumer buying habits. From researching businesses, products, or services tapping into social media marketing for your small business is essential to grow and be able to reach more consumers.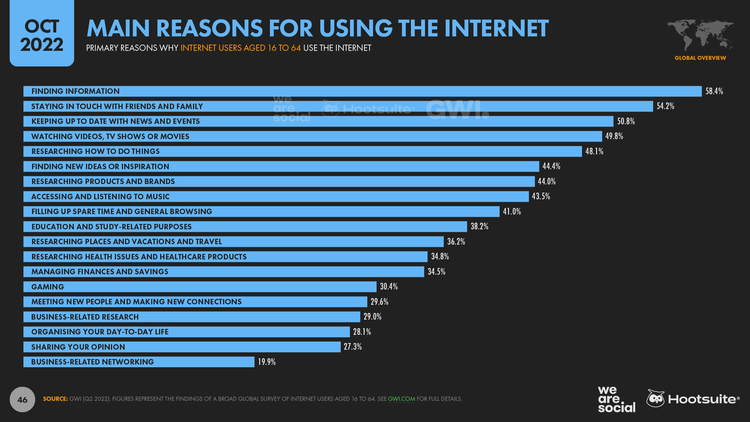 Social Media Marketing Trends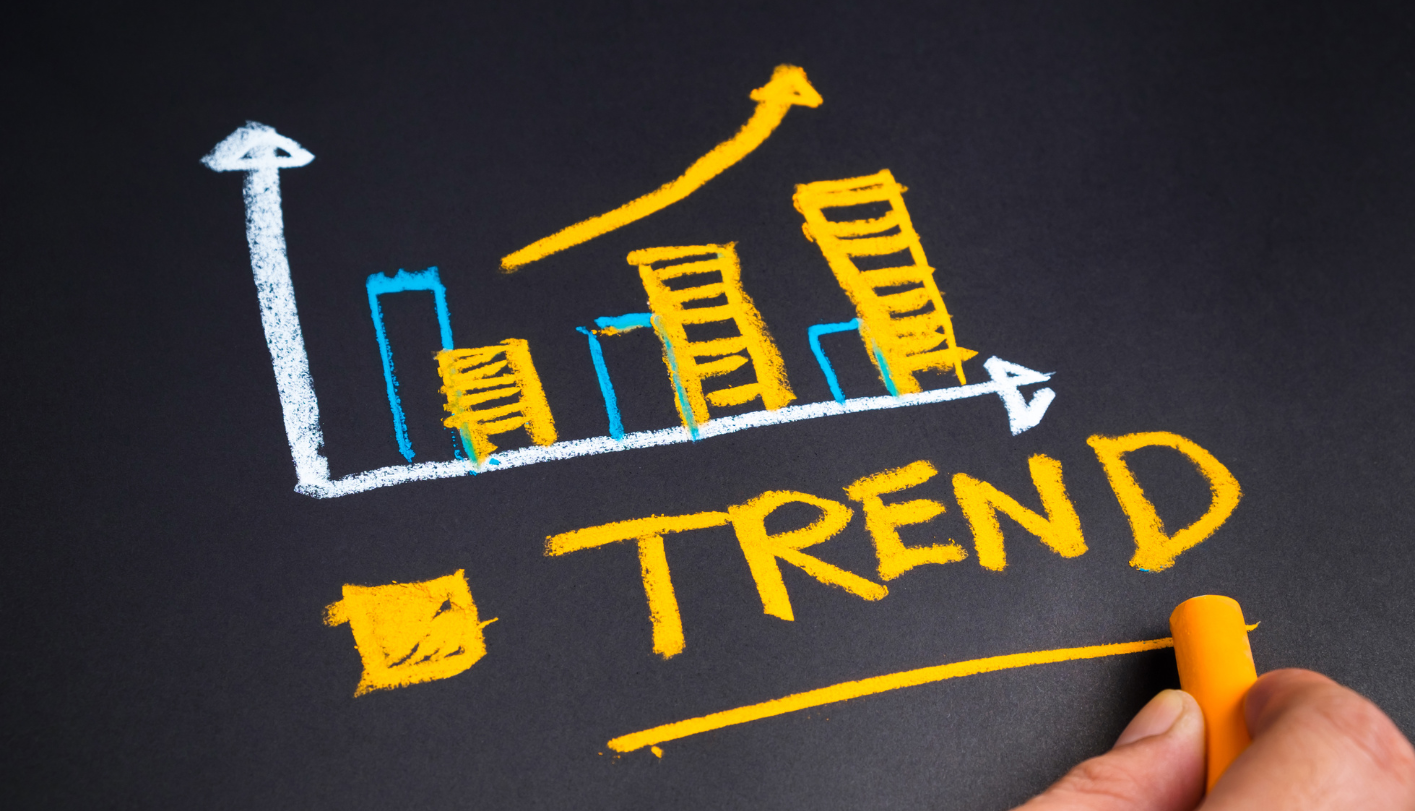 Social media marketing is an ever-evolving field, with new trends emerging yearly. As technology and consumer habits change, so do the best practices for social media marketing.
Marketers must be aware of the newest social media platforms and strategies to stay ahead of the curve and maximize reach. By understanding current trends in the industry, businesses can create successful campaigns that will reach more potential customers and increase revenue.
Augmented Reality Advertising: Utilizing augmented reality to create immersive ad experiences that are engaging and memorable for users.
Increased Focus on Social Shopping Experiences: Leveraging social media platforms to enable customers to make purchases directly from the platform, providing a seamless shopping experience.
Personalized Content Marketing: Leveraging data analysis and AI technologies to create personalized content strategies tailored around individual user needs and interests.
Micro-Influencers: Focusing on building relationships with influencers with smaller yet more engaged followings to reach new audiences and increase brand awareness without breaking the bank.
Automation Tools: Making use of automation tools such as chatbots or scheduled post-automation software to save time while still delivering quality content at scale across multiple channels quickly and efficiently
Increased Use of Voice Search Optimization: Optimizing content for voice search keywords to boost discoverability through popular digital assistants such as Alexa, Siri, or Google Home devices.
Live Video Streaming Services: Take advantage of live streaming video services like Twitch or YouTube Live to engage viewers directly with your brand's messaging in real time.
The social media landscape is constantly changing. Marketers must stay up-to-date with the latest trends and tools to create successful strategies to reach their target audience and drive sales.
By understanding these trends, small businesses can leverage them to their advantage and stay ahead of the competition.
Social Media Marketing Courses and Books
Businesses need to understand current industry trends and utilize new platforms for their campaigns to maximize their reach. For those looking to learn more about social media marketing strategies, there are a variety of courses and books available that provide comprehensive guidance on developing successful campaigns.
These resources can help small businesses leverage social media to increase sales and stay ahead of their competition.
Popular Course for Small Business Owners
Hootsuite has a very popular social media course to help small business owners understand the fundamentals of social media marketing. The course will help business owners get started with social media and provide comprehensive insights into the latest trends in the industry, as well as tips on creating successful campaigns.
Best Books For Beginners
Best Books for Intermediate
How Social media has influenced the buying power
Whether you're looking to learn the basics or sharpen your current skills, plenty of resources are available to help small businesses stay ahead of the curve and create successful social media marketing strategies.
Final Thoughts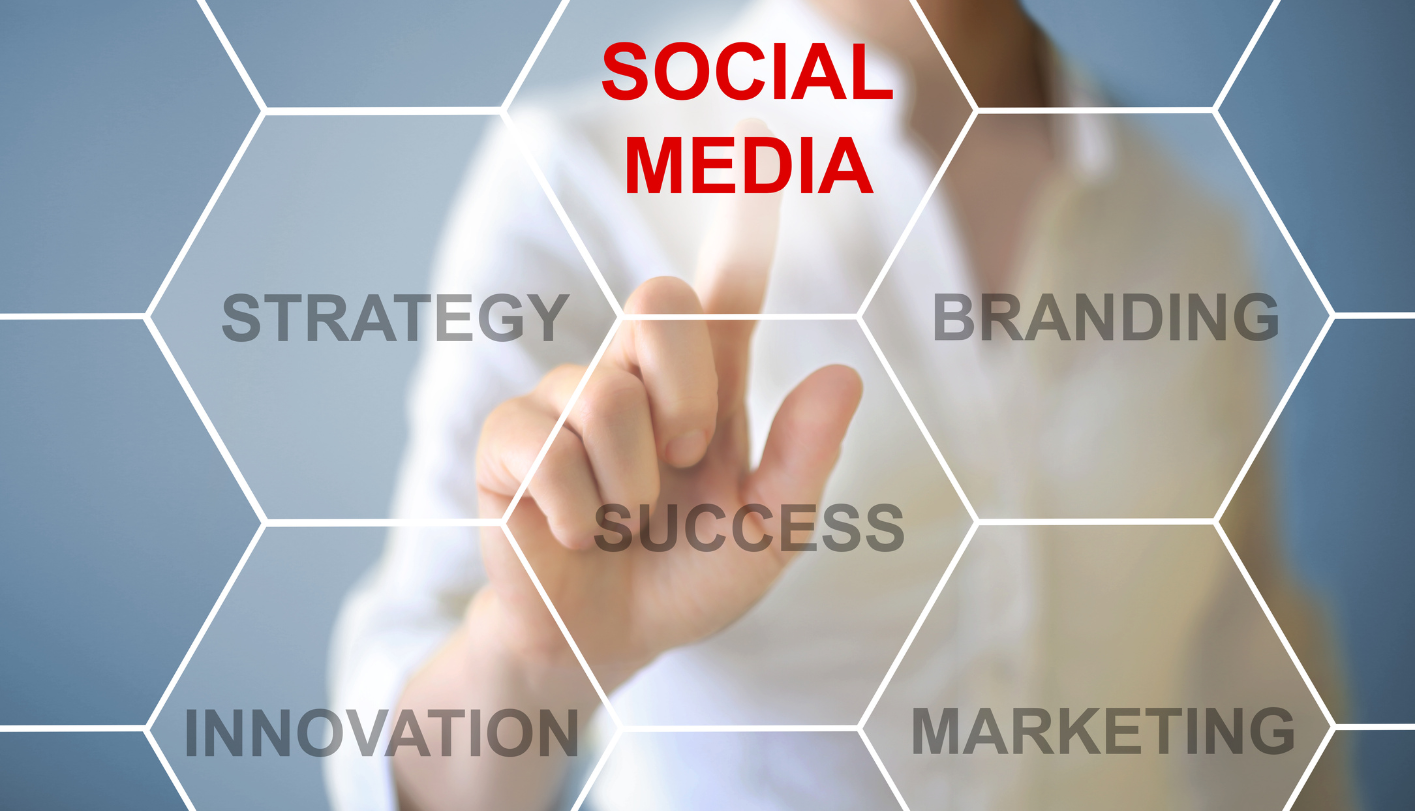 In conclusion, social media has become essential to any successful marketing strategy. Keeping up with the latest trends in technology and consumer habits is key to staying ahead of your competition.
With various courses, books, and tools available for small business owners looking to learn more about social media marketing, plenty of resources can help you create winning campaigns tailored to individual user needs and interests.
Businesses can maximize their reach by leveraging data analysis, AI technologies, micro-influencers, automation tools, voice search optimization techniques, and live video streaming services while engaging viewers directly with their brand's messaging in real time.
Ultimately it all comes down to understanding how these new trends work together so we can use them successfully in our strategies – if done right, this will lead to increased sales conversions!